Introduction:
This Fstsort automatic fruit grading system sort fruits and vegetables on weight basis, composed of feeding unit, weighing assembly, dropping and collection unit. It is computer controlled, high precision, capable of weighing individual fruits and grading them in several different weight grades.
Application:
Apples, pears, peaches, avocados, mangosteens, passion fruit, citrus, bell peppers, figs, lemons, kiwis, pomegranates and other fruits that are easily damaged or sorted with high precision.
Features:
Wide application: This sorter can be used for various fruits and vegetables.
Simple operation: with color man-machine interface, intelligent, user-friendly design;
Easy maintenance: easy for installation and maintenance and cleaning;
Adapting PLC controller, it is high stability.
Various speed. the motor is controlled by frequency converter, and the speed can be adjusted as needed;
High speed, high precision: high-precision digital sensor, fast sampling speed and high precision;
Zero tracking: can be manually or automatically cleared, as well as dynamic zero tracking.
Rotary weight sorter(for 6 sizes/exits)
Specification:
| | |
| --- | --- |
| Model | FIRW-10000 |
| Capacity(pcs/h) | 16000pcs/h |
| Grades | 6 |
| Power(kw) | 1.37kw |
| Accuracy | ±2g |
| Sorting range | 30-400g |
| Dimension(mm) | 4775*4635*1380 |
| Machine weight | 700kg |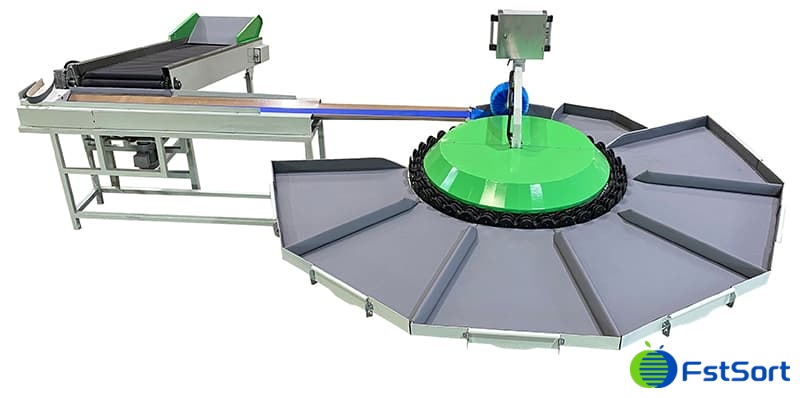 Straight weight sorter(for 7~12 sizes/exits)
Specification:
| | |
| --- | --- |
| Model | FIEW-15000 |
| Weighing range | 20g~500g |
| Accuracy | ±2g |
| Speed | 25000 pcs/h |
| Screen | 10.5-inch touch screen |
| Controller | PLC |
| Power | 4.1 KW |
| Working environment | Temperature:0℃~40℃ Humidity:30%~95% |
| Belt material | Food-grade belt PVC |
| Dimension | ≤21000mm(L)*1500mm(W) |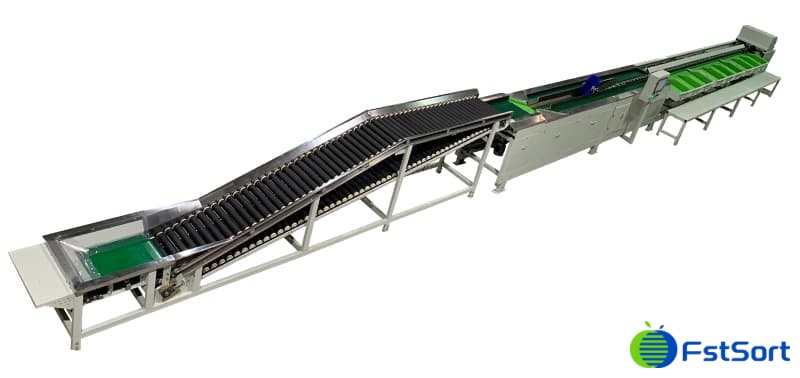 | | |
| --- | --- |
| Model | FIEW-30000 |
| Weighing range | 20g~500g |
| Accuracy | ±2g |
| Speed | 50000 pcs/h |
| Screen | 10.5-inch touch screen |
| Controller | PLC |
| Power | 7.3KW |
| Working environment | Temperature:0℃~40℃ Humidity:30%~95% |
| Belt material | Food-grade belt PVC |
| Dimension | 18890*2000*1200mm |