Recently,T&G Global shipped a new season of New Zealand-made Envy apples from Hawke's Bay, the first export of the season. About 2 million boxes of Aifei apples are expected to be exported to 60 countries in Asia, North America, the United Kingdom and Europe throughout the season.
As we all know, export apples are generally strict on quality and specifications (grades). The basic requirements are that all grades of apples must be complete, intact in appearance, without decay and deterioration, and without insect pests, etc., and the EU has size regulations for export apples. Therefore, apples for export should be carefully picked, quickly graded after picking, and able to withstand transportation and handling.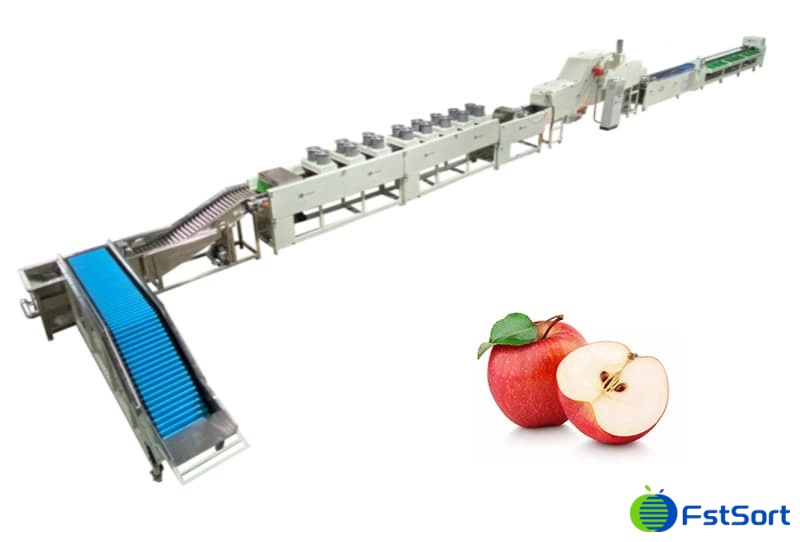 This FstSort apple processing line can meet the basic requirements of apple exporters. Apple cleaning waxing drying sorting line is composed of a bubble cleaning machine, a polishing air dryer, a waxing machine, a drying machine, an arrangement conveyor belt and a weighing system, soaked the avocado pour bubble cleaning machine, elevate by bubbles evenly to polishing air drying machine to dry, after wax wax machine (wax role is largely inhibit fruit respiration and reduce moisture loss, fruit Preservation extended shelf life effect, but also increase the smoothness of the fruit, improve the quality of fruit products), and then to the dryer for drying, after entering to arrange conveyor belt conveying in turn into the fruit bowl of electronic scale, after weighing sensor sensing the weight of each avocado, PLC calculation set weight from each falling exports, to be delivered into the box.
This FstSort grading machine can quickly and accurately grade apples, which can shorten the storage time after picking, saving time and labor. Compared with traditional classifier, electronic weighing classifier can do no damage to apple.
This FstSort packaging equipment is designed and manufactured according to the characteristics of apple, which can effectively prevent apple from bruising, improve the packaging quality and efficiency, and reduce the economic cost for importers and exporters. This FstSort apple production line is also widely used for similar fruits and vegetables.