Description:
This Fstsort sorting machine consists of a water tank with roller elevator, a brushes bed with high pressure water sprayers, an air drying machine and a size grader(grade sizes adjustable). Suitable for grading fruit and vegetables by diameters.
Features:
- High efficiency
- Strong and cleanable water tank.
- Soft and durable brushes, reduces chance of damaging products
- Various speed
- With CE certificate
- Gently delivers product, minimum damage on fresh products.
- Roller inspection table can be set if you need manual sorting
- Hot air dryer can be added if need complete drying
FISP-8000
Specification:
| | |
| --- | --- |
| Capacity | 6-8ton/h |
| Grades | 5 |
| Quantity of brushes | 50 |
| Brush Material | Nylon |
| Quantity of air dryers | 6 |
| Dimension | 16010*1630*1270mm |
| Power | 12.2kW, 380V, 50Hz |

Fully stainless steel line
Bubble washing→High pressure sprays&brushes→Brushes& air drying→grader
FISP-8000SS
Specification:
| | |
| --- | --- |
| Capacity | 8-10tons/hr |
| Grading Sizes | 5 |
| Dimension | 16010*1630*1270mm |
| Voltage | 380V |
| Power | 12.2KW |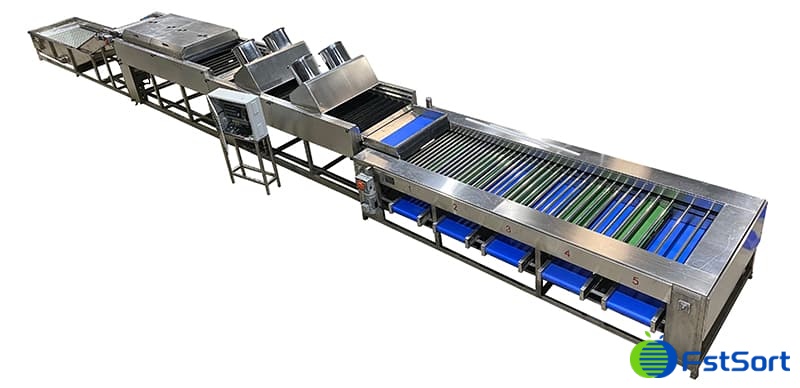 Sweet potato washing drying sorting machine we customized (Make sure 100% dry on sweet potatoes)