Product description:
This Fstsort potato grader is designed to replace the traditional screen sizer, and provides an perfect combination of accuracy, capacity, and price. PVC rollers rotate the potatoes for workers to do quality inspection, and finally grade on three to six sizes. Either the bag closing device weighing system can help you do packing directly.
Features:
1. Roller inspection tables - roller conveyor provide an efficient and affordable way to keep your product constantly rotating when manual inspection is required.
2. Variable speed- Variable-speed operation can be achieved either by mechanical or electrical adjustment.
3. Outfeed Conveyors - Gentle and durable belts can carry your product to either side of the Sizer. End with a Bag closing device or slope exit as needed.
4. Easy to use, simple maintenance, Wheels on the legs for easy movability.
5. Customize -
1) Material: we provide stainless steel on product contacting points or fully stainless steel.
2)Processing lines can be provided with big feeding hopper, roller inspection table, dry cleaning, wet cleaning, weighing and packing system.
Application: Suitable for grading oval and irregular shape fruits and vegetables like carrots, potatoes, sweet potatoes, beet, capsicum, noni fruit, parsnips, etc.
Specification:
| | | | | | |
| --- | --- | --- | --- | --- | --- |
| Model | Capacity | Grades | Dimension(mm) | Power | Voltage |
| FIPG-8000 | 8t/h | 3-6 | 9260*1500*1220 | 2.6KW | 220V/380V |
| FIPC-5000 | 5t/h | 3-6 | 9010*1820*1700 | 2.6KW | 380V |
FIPG-8000 (large capacity grader)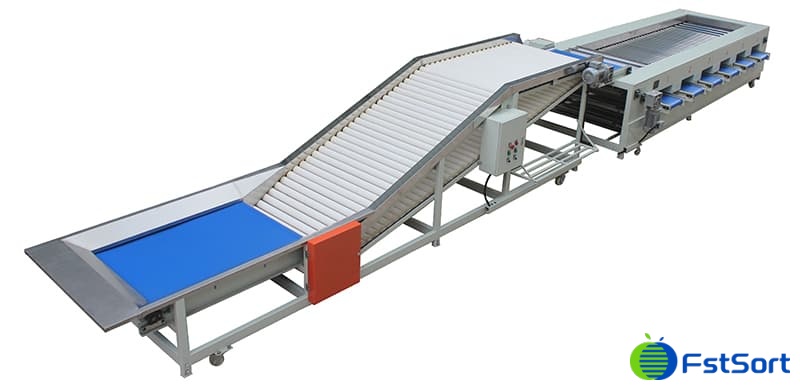 FIPC-5000 ( 20 brushes+size grader)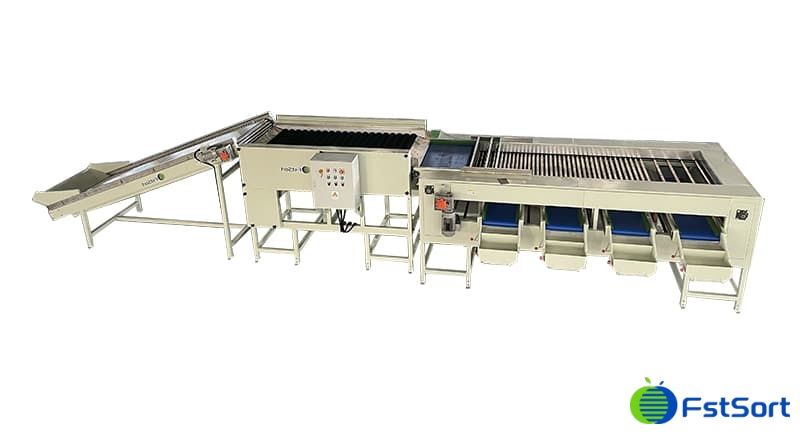 Potato processing line we customized(Elevator + Dry Cleaning + Adjustable Grading)