Dates adjustable roller sorting machine
Description:
This Fstsort dates grading sizing machine consists of hopper&elevator, roller inspection table and grading part, used for sorting and grading fruits by diameters. Stainless steel rollers rotate on the inspection table for manual quality sorting.
Grade sizes adjustable: Provide a wide choice of grade sizes to suit your specific needs.
Application: Dates, lychee, chestnuts, jujube, olives, shallots, kumquat, cherry tomatoes, etc.
Features:
1.Variable speed, easy operation.
2.With wheels on the legs you can move machines easily.
3.High-quality finished, good looking and safe for worker operation
Specification:
| | |
| --- | --- |
| Model | FIDG-3000 |
| Voltage | 220v |
| Power | 2.15kw |
| Capacity | 2-3t/h |
| Grading sizes | 3-6sizes |
| Dimension (mm) | 9800*1500*1350 |

Dates washing drying grading line

This Fstsort line includes the water tank, roller elevator & inspection table for picking out bad fruits, brushes with water spray for deep washing, air dryers and the grading section. All material contacting food are made of stainless steel.
Quantity of brushes: 50 pieces
Specification:
| | |
| --- | --- |
| Model | FIDW-3000 |
| Voltage | 380v |
| Power | 8.91kw |
| Capacity | 3t/h |
| Grading sizes | 3-6 sizes |
| Dimension (mm) | 12930*1480*2000 |
Jujube sorting packing line
(elevator+roller inspection table+adjustable size grader+box filler-semi auto)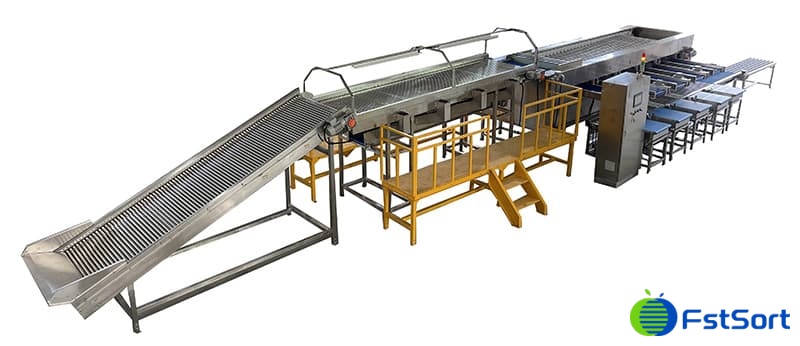 Jujube washing sorting packing line
(bubble washing machine&elevator+air drying machine+manual inspection table+sizing machine+box weigher)